A New Custom Hybrid Viscount Organ Installed in Pennsylvania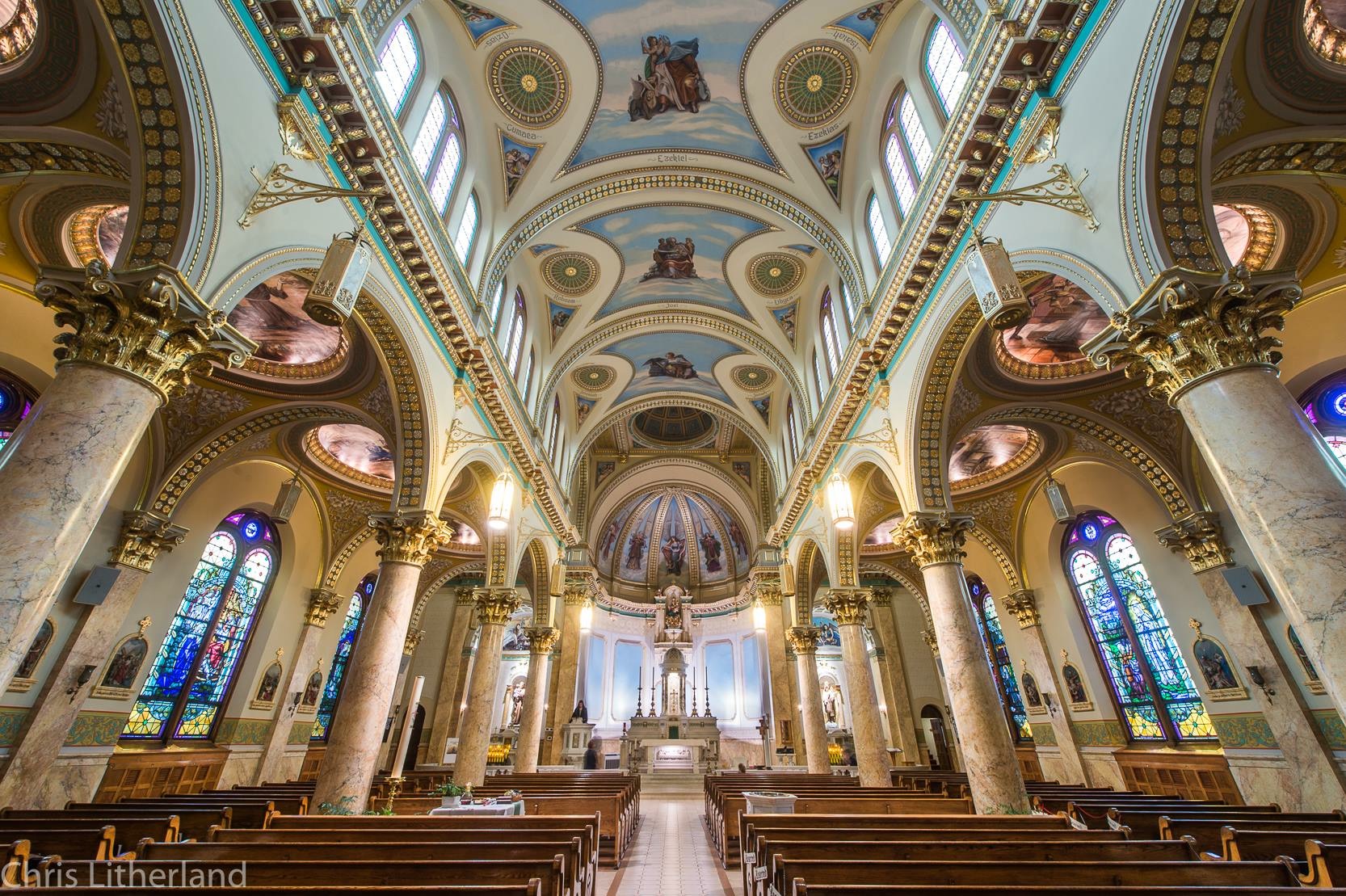 After much deliberation, Our Lady of Mount Carmel Catholic Church in Altoona, PA determined that their new organ must match the same beauty, visually and sonically, already found in their gorgeous church. For this reason, they chose a custom Viscount Hybrid Organ with Physis® Technology.  Considerable effort was made to bring their highly altered Estey Pipe Organ (Opus 2155) back to its original voicing and pipe configuration, along with adding complementary pipe ranks from another similar era Estey Pipe Organ (Opus 2232) from a now closed church in the Philadelphia area.  The new console powers over 90 ranks of organ voices, with 22 of those being real windblown pipes.
---
Since the digital voices are custom built in real time through Physis® Technology, the National Tonal Director, Robert Darnall, and the Viscount R&D Laboratory, were able to create voices specifically matched to the physical characteristics (physical construction, scaling, type of metal and wood, wind pressures, etc.) of the Estey Pipes for a seamless integration of digital and windblown voices. The goal was to create a sound as one organ with one ensemble, as if it was designed for the needs of that specific church and music ministry, because it in fact…was.
---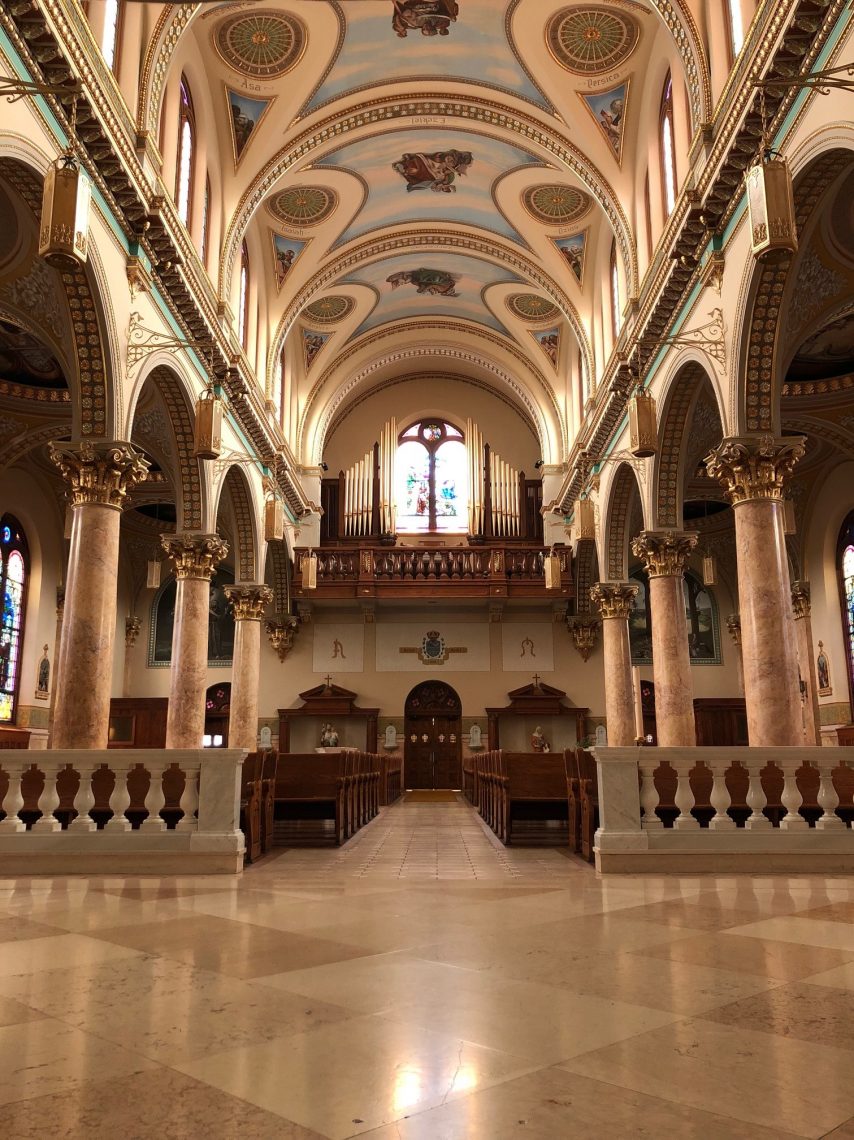 The church has been busy with their organ concert series. Several skilled organists have shared their thoughts on playing Our Lady of Mount Carmel's Hybrid Viscount Pipe Organ. But first, we'll share some comments directly from OLMC's highly competent Director of Music and Organist.
'Our new organ has surpassed all expectations. From the beautiful custom Unico 800 console designed to match perfectly with the décor of the church, to the careful voicing of our 22 pipe ranks, to the delicate balance of numerous Physically Modeled voices – Our Lady of Mount Carmel now has a world class instrument that will serve our parish and our community for many years to come.
The Viscount Team strived to create an instrument that is capable of accommodating every genre of organ literature. This goal has certainly been met. We now have a variety of beautiful strings and celestes in each division. Each division is graced with its own principle chorus that can either stand alone or be used in combination to further enhance the versatility of the organ. The chorus reeds not only blend perfectly with the principle chorus, they are voiced so they can also be standalone solo reeds. The options for registration are endless!
As organist – I am most grateful with our decision to choose Viscount. Our new organ has greatly enhanced the worship experience and the liturgy here at Our Lady of Mount Carmel.'
James Dengler, Organist
Our Lady of Mount Carmel Catholic Church
Altoona, PA
---
'My name is Agoston F. Solczi. I am 30 years old; I was born and raised in Transylvania (the western part of Romania) in a land with a fairly rich history of organ building. I settled down in the Pittsburgh region back in 2010 and I've served as the organist/choir director at St. Paul's Lutheran Church in Sewickley, PA since 2011. I've had the privilege of playing many different instruments along my musical career so far: just about every instrument imaginable ranging from the smallest electronic organs (all analog of course) through digital (both older and more recent) as well as actual pipes (ranging from just a couple ranks to 100+). However, the new installation at Our Lady of Mt. Carmel in Altoona was a first for me as it was the first time I've had the opportunity to play a hybrid instrument.
I've done a fair amount of research over the past few years so I am familiar with the Physis technology used by Viscount but I was curious to see how it would blend with actual pipework…and after listening to the instrument and playing it first hand, I must say I was quite impressed. First of all, the looks and the quality of the console itself is top notch. It looks good and it feels good. Overall, it is a good place for an organist to be. However, what makes this instrument special in my mind is definitely the sound. The voicing is spot on; the pipes and the digital voices blend perfectly with each other and the instrument has a very nice presence in the reverberant acoustics of the sanctuary at Mt. Carmel. The quality of the digital voices is also among the finest and to me, the most obvious testimony of the quality and realism of these voices is that it was indeed almost impossible for me to differentiate between pipe and digital without being told which one is which. Mr. Dengler, the director of music at Our Lady of Mt. Carmel gave me a perfect example: he pulled and 8′ flute on all 4 divisions (Choir, Great, Swell, Solo) and played a little sample on each of them. I could definitely hear 4 distinctively different flute sounds but again I was unable to tell which one was pipe and which ones were digital. All in all, the parish at Our Lady of Mt. Carmel has been blessed with a fine instrument which I'm sure will bring joy to many who will get to hear and/or play it for years to come. I'm glad and honored that I got to be among the first to play this instrument and if given the chance, I will definitely be going back to play it again!'
Agoston F. Solczi, Organist
St. Paul's Lutheran Church
Sewickley, PA
---
"The organ at Our Lady of Mount Carmel Church performed well in recital. It provided a wealth of tonal combinations making use of pipe and digital voices. The user-friendly voicing interface allowed me to adjust – and easily – digital voices to match my ear and taste, increasing the versatility of an already large instrument."
Nicholas Schmelter, Director of Worship and Congregational Life
First Presbyterian Church
Caro, MI
For a detailed stoplist and specificationof the new organ, click the link below.
Viscount Hybrid Organ Specification Our Lady of Mount Carmel Altoona, PA
The Unico series is a line of classic organs developed with Physis® physical modeling technology, entirely designed and patented by Viscount's Italian research facilities. With this new approach, based on physical modeling of the pipe organ, you will enjoy the most faithful and malleable sound on the market today.
Thanks to accurate audio reproduction and powerful reverberation effects, Viscount has transferred the magnificence of a large pipe organ into the convenience of a compact instrument.
The Unico series has a rich library of customizable settings and parameters which allows you to select, assign and store hundreds of additional registers. Features are easy to access through a discrete backlit main control display.
The SONUS series is a line of classical organs developed with exclusive Physis® technology - designed and patented by Viscount's laboratories. Based on modeling the physical phenomena involved in pipe organ sound generation, the sound generated is incredibly authentic.
On top of Physis® sound generation technology, we have designed a revolutionary new audio system called RAR (Real Audio Rendering). Thanks to RAR technology, you can totally manage the impression of three-dimensional space in which the instrument is placed – from the smallest room, all the way up to a large cathedral setting. The new Viscount RAR (Real Audio Rendering) technology represents a significant step forward in terms of definition, spatiality and body of the sound, which is the most authentic way yet to create that magical effect of the most important organ stop – 'the ambience'. Sitting at the console of the new Viscount Sonus, you will experience the most realistic impression of the instrument and its setting available from any digital organ you may care to play.
The OUVERTURE is an organ with 3 keyboards, complete pedalboard and 55 registers - each of which can select hundreds of organ and orchestra voices. There is also an orchestra register for every section of the organ which can be selected from the numerous options available.
The organ comes with 8 organ styles (4 fixed and 4 programmable) that allow the organist to create and store an infinite number of combinations, either in the 128 internal memory locations or externally via USB memory. The parameter settings are easily accessible through the graphic display on the front panel. The "Tracker Action" style keyboard accurately detects touch by obtaining the speed of actuation of the keys, making it possible to feel a "Tracker Touch" effect, i.e .the correlation between the "touch" of the organist and the transient attack of each virtual pipe.
Developed with the award-winning and patented Physis® physical modeling technology, which reproduces the physical phenomena involved in the sound generation of the pipe organ, the Ouverture is capable of generating the highest-fidelity, most authentic church organ sound.
Chorum instruments faithfully reproduce the sounds of a pipe organ with proprietary ARTEM technology (Advanced Real TEchnology Music) designed by Viscount's Research and Development labs in Italy.
The richness and beauty of stops are enhanced by an accurate reverberation system, able to recreate a great variety of acoustic environments, from a small chapel to the largest cathedral.
Chorum organs are highly functional, yet simple to use; you can store a large selection of memories and recall your stop combinations.
Our flagship Viscount organ line powered by our patented Physis® (Physical Modeling) Technology.
Our sampled-sound based Viscount organ that beats all others in price & value for the money.