The decorated history of  the Galanti family and Viscount Organs began with Antonio in the 19th century and tells a story of a family whose name is synonymous with high quality music-producing instruments. For more than a century their high-quality instruments, have spread the name from Mondaino, Italy throughout the world. Antonio was succeeded in business by his sons Egidio and Marcello. 
In 1959, Marcello Galanti founded Viscount International. In the 1980's, electronic musical instruments were completely re-born thanks to the advent of digital technology. This would create a new evolution of quality and performance which would include keyboards, pianos, and even classical digital organs.
Upon Marcello's passing in 1999, his son Mauro and daughter, Loriana, took over the Viscount Organs business.
With the beginning of the 21st century and heightened global competition, Viscount Organs faced a new challenge. They responded with a revolutionary technology called Physis. Physis is  an innovative sound-generated technology based on physical modeling – offering electronic musical instruments with exclusive performance advantages that no other company can offer.
Viscount Organs have proven their quality through their longevity and their innovation.
Read more about their Unico, Sonus, Chorum, and hybrid models!
Mondaino 1917: First Factory Galanti Bros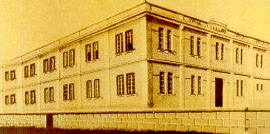 Marcello Galanti founder of Viscount International