The Legend Series: Paying Homage to Tonewheel Organs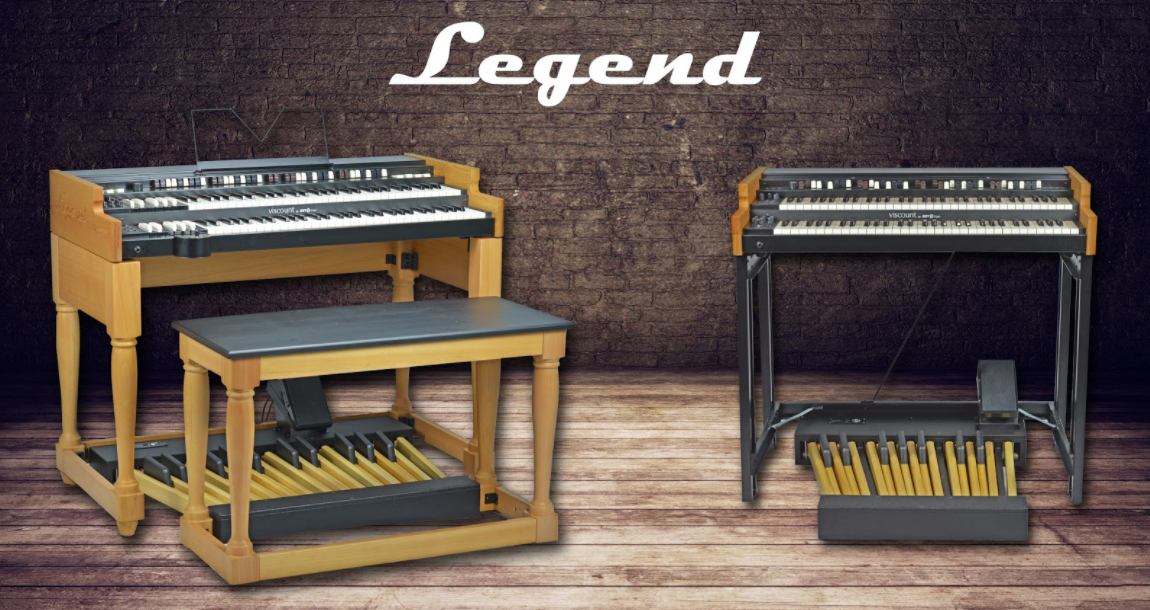 The Hammond Organ was the world's first introduction to tonewheel organs — and at that, electronic organs — in 1935. Quickly rising in popularity, Hammond Organs became the go-to organs for their portability, affordability, and amazing sound, becoming a legend in the history of organs. It's because of its prolific effect on organs and electronic instruments as a whole that Viscount Organs is proud to have created our elite Legend Organ Series, all of which perfectly replicate the sound and feel of tonewheel Hammond Organs. 
Tonewheel Organs 
The revolutionary technology of tonewheels utilized a metal tonewheel that created different frequencies of voltage upon spinning. These frequencies were then amplified by a speaker cabinet to harness different musical notes. Where the tonewheel organ created the musical notes, the rotary speaker cabinets (most famously the Leslie Speaker) served to provide the classic vibrato that we associate with organs. This advancement made it possible to utilize the wonderful sound and complexity of the organ without the need for a permanent, pipe-oriented set-up. 
In addition to making organ music accessible outside of concert halls and churches, the Hammond Organ also maintained the versatility that permanent organs allow. The presence of drawbars on their tonewheel organs allowed for the intentional inclusion or removal of pipe lengths, similar to stops on a concert organ. In essence, the artist was able to select which pipe lengths were being utilized, and could adjust each simulated pipe's particular volume to achieve their desired mix. 
The Hammond Organs also included foot pedals, just as a concert hall or church organ, to enable musicians to play basslines with their feet.
As musicians and music clubs began to realize the amazing nature and value of the tonewheel organ, it quickly skyrocketed into its position as a favorite, due to its affordability and practical nature. Before long, tonewheel organs were being utilized in jazz, reggae, rock, and rhythm and blues. 
Viscount Legend Organs 
We're elated to say that our Legend Organ Series directly pays homage to tonewheel organs. We felt that this was important to do, as their impact on organ music and the instrument's reputation is insurmountable. To begin, we focused on making the overall design of our Legend Organs nearly identical to the design of the classic Hammond tonewheel organs. At the same time, we found it important that along with featuring the aspects of tonewheel organs that we all fell in love with, we also pushed the technology to accommodate the modern musician. 
Features
The Legend Organ Series (excluding the Legend Solo) features two manuals, along with bass foot petals. Each manual boasts two sets of nine draw bars, and the bass petals have one set of two drawbars. First and foremost, this stays true to the design of classic tonewheel organs, and it also provides limitless versatility for simulated pipe mixing. Along with drawbars, the Legend Organ features four harmonic percussion effects!
To further discuss effects, the Legend Organ features two reverb settings, those being Hall Reverb and Spring Reverb effects. We're extremely excited to say that this organ also allows you to select where the reverb will take place as you play, either pre or post Leslie! Another favorite that we have spent a considerable amount of time developing, is our adjustable key-click feature, included with the Legend Organ. 
To stay true to the classic tonewheel organ sound, we've included three adjustable tonewheel clones, those being the 30 clone with iconic adjustable crosstalk and bass foldback; the 50 clone with its unique, dark sound and cross talk; and the 70 clone with ample mid-range and unique crosstalk, similar to the mylar capacitor of old.
Not only does our Legend Series offer a variety of amazing effects, but it also allows you to control said effects in real-time as you play! 
If you remember the classic, half-moon rotary switches which were a major component of the original Hammond tonewheel organs, you'll be happy to hear that our Legend Organ Series offers the same. What's more, is that our half-moon rotary switches are easily removable to ensure safe, efficient transport. Additionally, we have included the classic 11-pin output for those musicians who are still proudly performing with their mainstay Leslie rotary speakers.
No rotary speaker? No problem! Our Legend Organ Series also offers a variety of MIDI and audio outputs, as well as two different rotary speaker emulators, those being the classic and the rock sound emulators. The classic sound emulator provides the effect of a rotary speaker, without having one, where our rock sound emulator creates the sound of a mic'd rotary speaker and provides a uniquely mixed EQ. 
Additional Features Include:
Two tonewheel reminiscent preset keys

Pedal sustain effects

Two headphone jacks 

USB charging port

Pedal Sustain
Legend Series Options
Within our Legend Series, we offer three different models to choose from. We have the Legend Classic, the Legend, the Legend Live, and the Legend Solo. Each offers the slightest of differences to suit any organists' needs (for instance our Legend Solo features one manual as opposed to two). Take some time to compare and see which model best suits your needs. Feeling extra fancy? Select Legend models are available as Joey DeFrancesco Signature Editions, which feature effects mixed by Joey and clones modeled after tonewheel organs in his personal collection.
Do you already have a keyboard, but want the glorious effects brought about by tonewheel organs? Don't fret! We also offer our Legend EXP module so you can harness the effects of our Legend Series on your current instrument.
We also offer an array of accessories for our Legend Organs, including but not limited to stands, pedal boards, travel cases, and computer software to personalize and save your desired effects! 
Experience These Elite Organs, Today! 
At Viscount Organs, we are extremely dedicated to respecting while simultaneously furthering the musical organ. We truly believe that our Legend Organ Series is an amazing advancement, both introducing a new, unique instrument while paying homage to the organ that made it all possible, the Hammond Organ.
After all, the best musicians play Legend Organs! Joey DeFrancesco, Pat Bianchi, Francesco Lo Giudice, and Steve Windwood are all examples of artists who play, and love our Legend Organ Series. 
Our Legend Organs are essential for any organ enthusiast. Visit us today, and get yours! Want to see a demo of the features? Watch the great Pat Bianchi walk you through the features of our Legend Organs! 
The Unico series is a line of classic organs developed with Physis® physical modeling technology, entirely designed and patented by Viscount's Italian research facilities. With this new approach, based on physical modeling of the pipe organ, you will enjoy the most faithful and malleable sound on the market today.
Thanks to accurate audio reproduction and powerful reverberation effects, Viscount has transferred the magnificence of a large pipe organ into the convenience of a compact instrument.
The Unico series has a rich library of customizable settings and parameters which allows you to select, assign and store hundreds of additional registers. Features are easy to access through a discrete backlit main control display.
The SONUS series is a line of classical organs developed with exclusive Physis® technology - designed and patented by Viscount's laboratories. Based on modeling the physical phenomena involved in pipe organ sound generation, the sound generated is incredibly authentic.
On top of Physis® sound generation technology, we have designed a revolutionary new audio system called RAR (Real Audio Rendering). Thanks to RAR technology, you can totally manage the impression of three-dimensional space in which the instrument is placed – from the smallest room, all the way up to a large cathedral setting. The new Viscount RAR (Real Audio Rendering) technology represents a significant step forward in terms of definition, spatiality and body of the sound, which is the most authentic way yet to create that magical effect of the most important organ stop – 'the ambience'. Sitting at the console of the new Viscount Sonus, you will experience the most realistic impression of the instrument and its setting available from any digital organ you may care to play.
The OUVERTURE is an organ with 3 keyboards, complete pedalboard and 55 registers - each of which can select hundreds of organ and orchestra voices. There is also an orchestra register for every section of the organ which can be selected from the numerous options available.
The organ comes with 8 organ styles (4 fixed and 4 programmable) that allow the organist to create and store an infinite number of combinations, either in the 128 internal memory locations or externally via USB memory. The parameter settings are easily accessible through the graphic display on the front panel. The "Tracker Action" style keyboard accurately detects touch by obtaining the speed of actuation of the keys, making it possible to feel a "Tracker Touch" effect, i.e .the correlation between the "touch" of the organist and the transient attack of each virtual pipe.
Developed with the award-winning and patented Physis® physical modeling technology, which reproduces the physical phenomena involved in the sound generation of the pipe organ, the Ouverture is capable of generating the highest-fidelity, most authentic church organ sound.
Chorum instruments faithfully reproduce the sounds of a pipe organ with proprietary ARTEM technology (Advanced Real TEchnology Music) designed by Viscount's Research and Development labs in Italy.
The richness and beauty of stops are enhanced by an accurate reverberation system, able to recreate a great variety of acoustic environments, from a small chapel to the largest cathedral.
Chorum organs are highly functional, yet simple to use; you can store a large selection of memories and recall your stop combinations.
Our flagship Viscount organ line powered by our patented Physis® (Physical Modeling) Technology.
Our sampled-sound based Viscount organ that beats all others in price & value for the money.