Famous Organists: Pierre Cochereau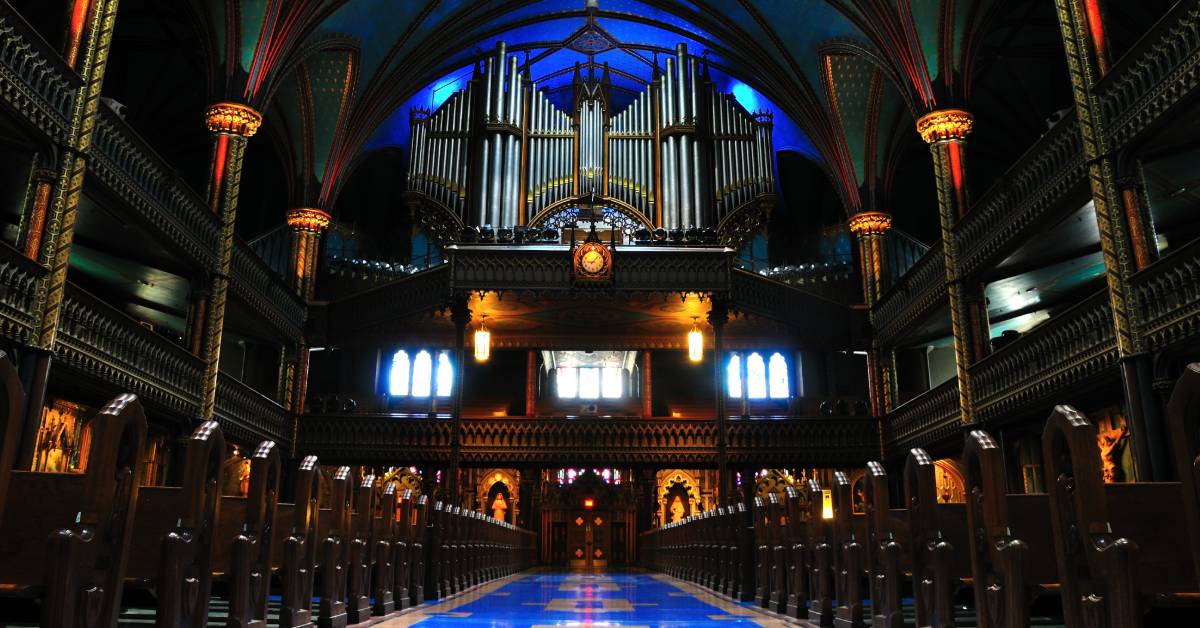 Today's Famous Organists blog will be focusing on the incredible Pierre Cochereau, an established concert organist and titulaire of the Notre Dame Cathedral in Paris, France. 
An Unconventional Beginning
Unlike most of the organists we've examined thus far in the Famous Organists blog series, Pierre Cochereau wasn't immediately sent to a conservatory to hone his musical skills. Instead, he began independently taking lessons for the violin when he was five years old, before switching to piano lessons. 
Eventually, in 1938, he discovered the pipe organ, thanks to Marie-Louise Girod, a student of the famed Marcel Dupré, acclaimed organist and instructor at the Paris Conservatoire.
Upon introduction to the organ, Cochereau was hooked, taking lessons under André Fleury and Paul Delafosse. This occurred from 1938 until 1942, when Cocherau put his skills into practice, taking over the position of titulaire at the Church of Saint Roch in Paris from his teacher, Delafosse. 
During his first year as titulaire, Cochereau attended law school, as he was considering a career in the field. However, after a year of law school, he decided music was his passion and what he wanted to do in his professional life.
In order to make his dream a reality, he started at the Paris Conservatoire in 1943, studying a variety of subjects. That being said, his focus was in organ and improvisation, studying under Marcel Dupré. 
He pursued his education until 1949, when he left the Paris Conservatoire, having earned first prizes in organ, harmony, music history, composition, and counterpoint and fugue. Additionally, during his time at the Paris Conservatoire, he completed his first tour of recitals in Hungary in 1948, and married his wife, Nicole Lacroix in 1949.
A Successful Career 
Upon leaving the conservatory, Cochereau achieved the position of director at Le Mans Conservatory, a post he held from 1949 until 1956. During this time, he also assumed the position of titulaire at the Notre Dame Cathedral in Paris, which is perhaps his most notable role as an organist. He took the position in 1955, and held it until his death in 1984. 
Another milestone of Cochereau's career was his recording of Dupré's organ composition, Symphonie-Passion, Op. 23, which was awarded the Grand Prix du Disque in 1956. That same year, he held his first musical tour in North America, one of many to come, as by the end of his life, he had performed a multitude of recitals throughout the world. 
Alas, his achievements don't stop there. Before his death in 1984, Cochereau held two different director positions. One at the Nice Conservatory in Nice, France (1961-1979), which was followed by his being the director at the Lyon Conservatory in Lyon, France (1979-1984).
On top of all the prestigious positions Cochereau held as a musician, the true legacy he left behind was his personal, unique improvisations on the organ. In fact, his improvisations on the organ were so wonderful, that many of them have been transcribed so musicians can continue to emulate the amazing presence he brought to the pipe organ. 
Along with the transcriptions of Cocherea's improvisations, he left behind a number of compositions for the organ as well as compositions for orchestra and chorale. 
A True Legend
Cochereau's impact on the world of organists and organ music is undeniable. From his amazing improvisations to the different positions he held as a master organist, he helped shape contemporary organ music as we know it.
To honor the amazing organists of history, organists like Cochereau, Viscount Organs is dedicated to continuing the legacy of fine craftsmanship and attention to detail when we develop and build our instruments. 
Contact us today to learn more about what we do and to get your own Viscount Organ! 
The Unico series is a line of classic organs developed with Physis® physical modeling technology, entirely designed and patented by Viscount's Italian research facilities. With this new approach, based on physical modeling of the pipe organ, you will enjoy the most faithful and malleable sound on the market today.
Thanks to accurate audio reproduction and powerful reverberation effects, Viscount has transferred the magnificence of a large pipe organ into the convenience of a compact instrument.
The Unico series has a rich library of customizable settings and parameters which allows you to select, assign and store hundreds of additional registers. Features are easy to access through a discrete backlit main control display.
The SONUS series is a line of classical organs developed with exclusive Physis® technology - designed and patented by Viscount's laboratories. Based on modeling the physical phenomena involved in pipe organ sound generation, the sound generated is incredibly authentic.
On top of Physis® sound generation technology, we have designed a revolutionary new audio system called RAR (Real Audio Rendering). Thanks to RAR technology, you can totally manage the impression of three-dimensional space in which the instrument is placed – from the smallest room, all the way up to a large cathedral setting. The new Viscount RAR (Real Audio Rendering) technology represents a significant step forward in terms of definition, spatiality and body of the sound, which is the most authentic way yet to create that magical effect of the most important organ stop – 'the ambience'. Sitting at the console of the new Viscount Sonus, you will experience the most realistic impression of the instrument and its setting available from any digital organ you may care to play.
The OUVERTURE is an organ with 3 keyboards, complete pedalboard and 55 registers - each of which can select hundreds of organ and orchestra voices. There is also an orchestra register for every section of the organ which can be selected from the numerous options available.
The organ comes with 8 organ styles (4 fixed and 4 programmable) that allow the organist to create and store an infinite number of combinations, either in the 128 internal memory locations or externally via USB memory. The parameter settings are easily accessible through the graphic display on the front panel. The "Tracker Action" style keyboard accurately detects touch by obtaining the speed of actuation of the keys, making it possible to feel a "Tracker Touch" effect, i.e .the correlation between the "touch" of the organist and the transient attack of each virtual pipe.
Developed with the award-winning and patented Physis® physical modeling technology, which reproduces the physical phenomena involved in the sound generation of the pipe organ, the Ouverture is capable of generating the highest-fidelity, most authentic church organ sound.
Chorum instruments faithfully reproduce the sounds of a pipe organ with proprietary ARTEM technology (Advanced Real TEchnology Music) designed by Viscount's Research and Development labs in Italy.
The richness and beauty of stops are enhanced by an accurate reverberation system, able to recreate a great variety of acoustic environments, from a small chapel to the largest cathedral.
Chorum organs are highly functional, yet simple to use; you can store a large selection of memories and recall your stop combinations.
Our flagship Viscount organ line powered by our patented Physis® (Physical Modeling) Technology.
Our sampled-sound based Viscount organ that beats all others in price & value for the money.